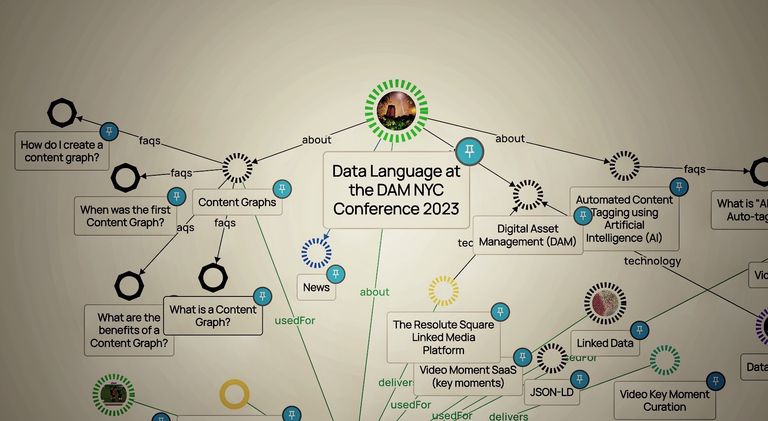 Data Language at the DAM NYC Conference 2023
The Data Language team is demonstrating Content Graphs to metadata and digital asset fanatics at the DAM NYC Conference 2023.
About DAM NYC
DAM (Digital Asset Management) New York is the world's largest global conference dedicated to DAM and its role in digital transformation. This year is DAM NYC's 20th anniversary. The topics covered include metadata, end-to-end integration, omnichannel publishing, programmable media, creative operations, artificial intelligence, workflow automation, corporate archives, governance, return on investment, rights management, employee engagement, master data management, video workflow and more.
We are demo-ing Content Graphs and AI auto-tagging
While the DAM commodity landscape is fairly mature, with lots of well established vendors, the role of semantic metadata in asset management and supporting AI services is still in its infancy.
We are showing some examples of knowledge graph powered content experiences and AI auto-tagging, and sharing experiences with the DAM community.
Content Graphs in the Digital Asset Management ecosystem
Content Graphs use a knowledge graph structure to describe and interconnect digital assets.
By using a content graph alongside traditional DAMs and CMSs, businesses are able to realize additional capabilities, including:
Greater asset reach: Granular and contextual discovery via SERPs and Social platforms adds new reach opportunities.
Increased engagement: More flexible and relevant user journeys through related assets increases stickiness and domain authority.
Better video ROI: The use of semantic and structured metadata on Video Moment content within video assets enables better ROI on digital video by increasing the available reach and engagement surface area.
New stakeholder engagement: A more visual and connected presentation of digital assets enable stakeholders to explore and enjoy assets in context.
More soon
Stay tuned - more to follow soon, including our usual reflections in a week or so.