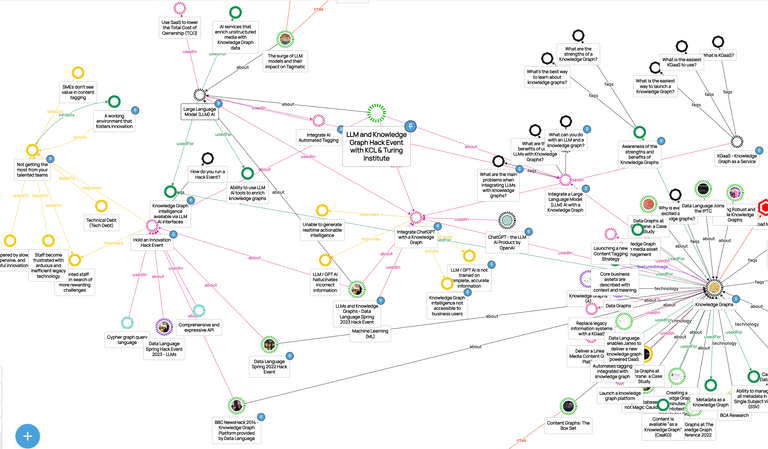 Integrate a Large Language Model (LLM) AI with a Knowledge Graph
LLM and Knowledge Graph Hack Event with KCL & Turing Institute
This week, Data Language is joining researchers, practitioners and experts in a Kings College London and Alan Turing Institute hack event focused on LLMs, Generative AI and Knowledge Graph tech.
Introduction to the LLM and KG Hack Event
What is the Hack Event? It is a 4-day hackathon bringing together researchers and practitioners with an interest in using the latest advances in pre-trained language models (PLMs) and generative AI to create and maintain curated, credible, and trustworthy knowledge graphs
Where is the Hack Event? It is being held in Bush House, the KCL Informatics Department campus in London Aldwych.
What is the Hack Event topic? We're exploring the cutting edge of knowledge extraction techniques using the combination of knowledge graphs and Large Language Models / Pre-trained Language Models (PLMs)
Why is this important?
In most businesses, a large amount of valuable information is being generated all the time, at ever increasing rates. Extracting structured and relevant information from these knowledge repositories remains a challenge. Traditional methods of knowledge base construction are often manual, labor-intensive, and do not scale well with the sheer volume of information available.
To add to this, there is a growing need to enrich business-specific domains with intelligence from unstructured 3rd-party information sources, and this process is currently, for the most part, a manual process constrained by the availability of experts.
So - this hack event is of particular interest to us because LLMs provide powerful human-compute interfaces, and KGs provide ideal machine-readable knowledge bases to power these interfaces usefully.
By utilizing Pretrained Language Models (PLMs), such as GPT, during this hack event we plan to tap into their intrinsic capability to understand and represent complex textual information.
Why is Data Language taking part?
We've been developing and exploring the practical combination of LLMs and Knowledge Graphs for a while, and the Informatics Department at Kings College London noticed this and got in touch with us.
This collaboration is ideal because it enables us to bridge the cutting-edge academic research across to practical LLM/PLM and Knowledge Graph industrial implementations.
What is planned for the LLM and KG Hack Event
New academic insights and discoveries.
New practical techniques to use LLMs/PLMs and Knowledge Graphs together.
New collaboration opportunities for LLM and Knowledge Graph research.
The teams and challenges
Group A: To what extent can LLMs support rich knowledge extraction?
Group B: Can we leverage LLMs to support collaboration in ontology engineering?
Group C: Can ChatGPT re-create the wine ontology?
Group D: Can LLMs be taught classic knowledge engineering principles using in-context learning?
Group E: Leveraging LLMs to ontology alignment
Group F: To what extent can LLMs be useful for multi-modal knowledge acquisition and inferencing?
Full Hack Event Report
This will be coming soon, in September, from the leads at Kings College London Informatics.
We will add this to our newsletter and add any updates of our own.
It's a wrap!
From Elena - the professor involved:
This has been one of the most inspiring research events I've attended in many years! We'll publish a report soon, so stay tuned. Congratulations to all participants for some amazing projects on #llms and #knowledgegraphs. - Elena Simperl - Professor of Computer Science and Kings College London (link on Twitter)
The hack event team


Picture from @kclinformatics twitter

Next up in the LLM and Knowledge Graph space
We will shortly post a write up of our experiences and take home thoughts.