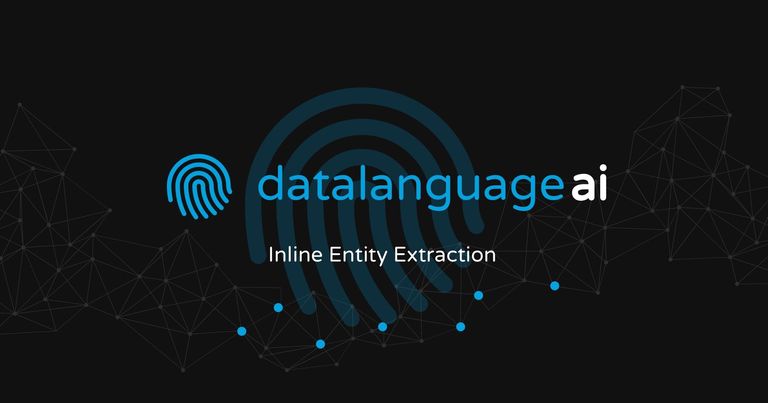 Inline Entity Extraction & Named Entity Recognition
Product Launch: Inline Entity Extraction SaaS - AI Custom Domain Auto-Tagging
Our new Inline Entity Extraction SaaS solves the problems around creating production-ready AI to tag text media to a Custom Domain or Knowledge Graph.
We are proud to announce the new member of our Text AI Services family: Inline Entity Extraction. This new AI NLP service was created for high-value knowledge organizations who want to accurately classify their text media at a granular, inline-level.
The Problem: Automated Tagging in Custom Domains
We created this service to solve the problems that other Named Entity Recognition (NER) NLP SaaS - and "build it yourself" approaches - could not solve.
Our customers are high-value media and knowledge organizations. A huge portion of their business asset value is locked in their unstructured media assets, which they must leverage to add value to their subscription, DaaS, targeted advertising, and other business models. This unstructured content must be connected to their custom business domain via knowledge graphs and other structured data systems:-
Complexity: To liberate this value, accurate inline text classification of 100s of 1,000s of entities is required to enable structured connection with bespoke information architecture models and/or knowledge graphs.
Custom Domain: Generic off-the-shelf NLP SaaS solutions do not recognize these custom entities, so a mapping exercise is required, and is often a too low resolution to provide value.
Rich Metadata: Other NLP solutions do not provide the rich, domain model-aware metadata, because they are not trained for the custom domain.
Small Training Sets: Other custom NLP solutions require larger training sets and golden corpora that cover the entire target entity set.
Cost of Build: "Build it yourself" becomes very expensive, with a large data scientist and engineering overheads, while organizations find themselves re-solving the same challenges that we have already solved.
Cost of Maintenance: "Manage it yourself" has a surprisingly large data science and engineering overhead, to overcome production challenges that we have already solved.
Our Solution: Text AI Services Inline Entity Extraction
Our Inline Entity Extraction SaaS handles a far greater number of classes than other NER NLP solutions, while delivering impressive performance results. It also works out of the box at scale for your production platforms.
Our Inline Entity Extraction SaaS comes with all these benefits immediately:
Custom Domains at Scale: It classifies text content to 100s of 1,000s of entities in a custom domain.
Powerful API: It provides a rich API for interacting with the machine learning service metadata.
Does its own ML housekeeping: It automatically manages machine learning model 'fallout'.
Self-Optimizing: It self-optimizes its machine learning models, on the fly.
Scalable: It is able to scale up indefinitely.
Production-Ready: It is Production-ready, out of the box.
All the engineering is done, and the security & maintenance are on us!
For more information on Data Language AI Services, check out the links below.
Subscribe to our newsletter