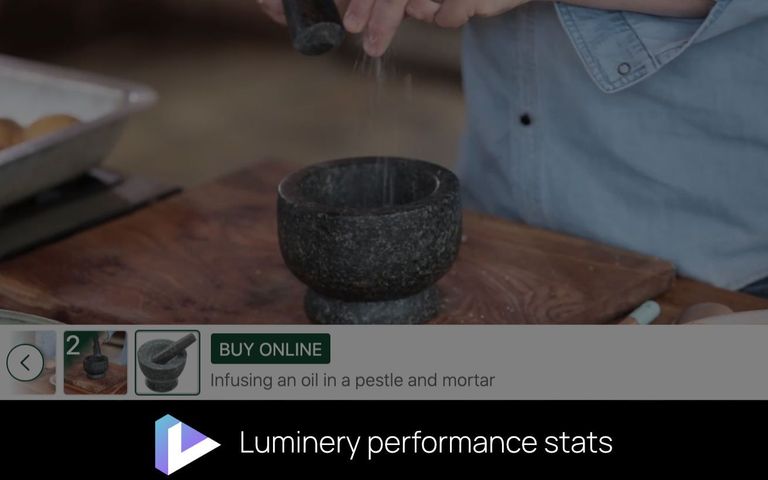 Video Key Moment Stats from Jamie Oliver Christmas videos
One month of video moment analytics from Jamie Oliver shows market-beating CTR and Engagement performance.
Publishing video key moments enables a new type of video experience, where users can interact with moments in video. For Jamie Oliver, this means getting more from each step in a recipe video, and highlighting products that are used in the video so that viewers can buy them directly.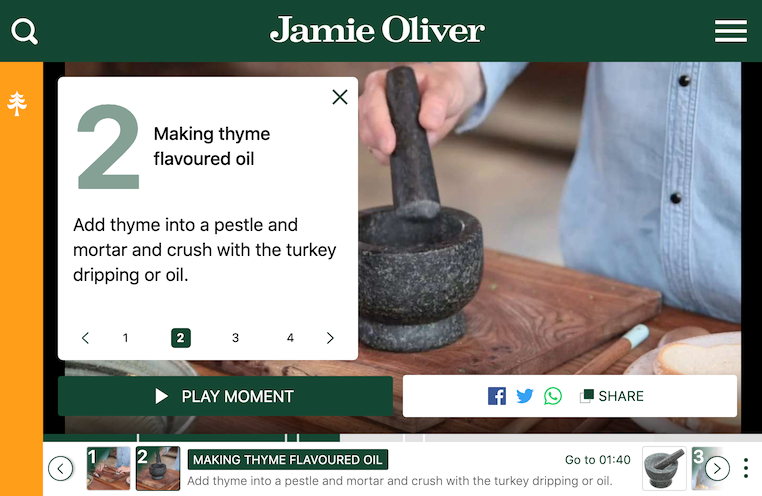 This image shows a "Making thyme flavoured oil" video moment, that had an interaction rate of 62%. 
From a data sample of 1 month of using Data Language Key Video Moment platform here are some highlights: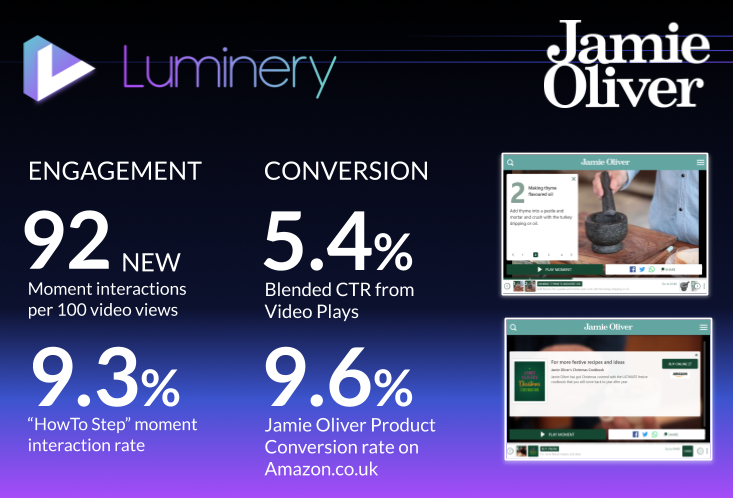 Video Moment Engagement
Challenge: Video experiences haven't changed for years. Can we get a new, user-centred experience that dramatically improves how viewers use Jamie Oliver videos?
Solution: Identify steps in the recipe, and the techniques, products and ingredients in those steps. Activate the steps as structured "How To" moments using Luminery. Add important products so that users can find them directly.
Results: 92 new "moment interactions" per 100 video views. 9.3% Interaction Rate with HowTo steps (compared to the current ZERO).
Video Marketing Conversion Performance
Challenge: Jamie Oliver produces a range of products, and creates incredible recipe videos. How do we drive better product sales from these videos?
Solution: Identify products in the recipe and activate the moments to help users directly reach and buy the products at the right moments using Data Moments (saving huge conversion fall-off due to searching and uncertainty barriers).
Results: 5.4% CTR (clicks as % of video views) generated by the "product moments" (compared to 0.5% of standard pre-roll Ads). 9.6% conversion rate at the E-commerce vendor destination for Jamie Oliver products.
What does this tell us?
This demonstrates, again, the benefit of using structured video moments to activate new value in Video. We've demonstrated new engagement and revenue -driving opportunities, and a fresh model for video publishing.
Subscribe to our newsletter